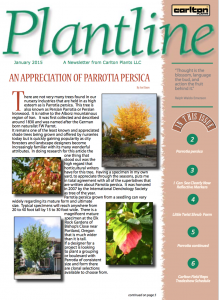 We wanted to share with you this article which was sent to us from one of our main tree suppliers in Oregon, Carlton Plants. In it you'll learn about the history of the Persian Parrotia, and why it is a great tree for today's modern landscapes.
We couldn't agree more on the fact that the Persian Parrotia is a under-used plant. It is unfortunate since it is one of the most beautiful trees, and has so many great qualities. In particular its bright red flowers in early spring, and its yellow, orange and red fall foliage make it a striking tree no matter what the season.
Please contact us at (732) 462-8450 if you're interested in a Persian Parrotia for your property, or to learn more.